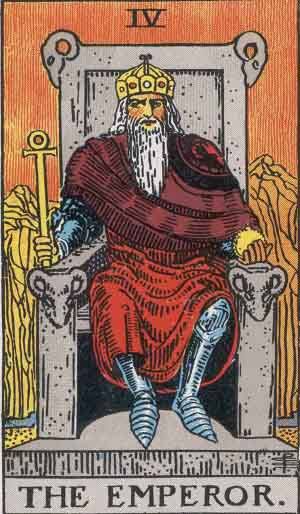 Symbols in Tarot
4.The Emperor
Ram's head-Aries Sign
Deep Red gown and Rob with orange and Red background-He approaches the things with power, passion and fieriness.
Armor Beneath his Gown-Power and Fearless.
Sceptre-Power and Authority.
Hair and Beared long-Experienced person. He is fair and honest in dealing with others. His life is one of order, stability and hard work. He sits like so that he can keep an eye on all his subjects as he rules and govern them. He is a man rules with his head and not his heart.
Stream of Water- His Emotions which are totally overwhelmed by his will, ego and prides.
Sitting on a chair-Wisdom.
Staff-Symbol of balance.
Sharp Shoes-Rude
He sees everything in black and white. He is associated with organisation and government, often first appearing as the rebel, finding fault in all around. He knows what nerd to be done and what the people want or need. He tells you to find the courage and confidence required to influence people in your favor and ensure your success.