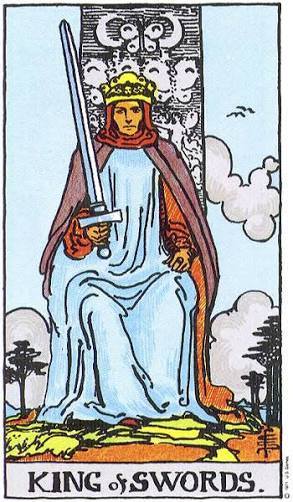 King of Swords – Wise,Kindly, Analytic, Logic and Authority.
Symbols
He sits upright and right on his throne. He is earthy part of Air and uses mental discipline to exert control over his life and those he has a duty to govern.
He tells use your head and not let your emotions for judgement. At the top of the mountain the air is clear and fresh. He sits strong and proud on his throne. His eyes as keen as the birds that over his head are his higher thoughts.
His gown with two cloaks one of orange and one of purple orange- Warmth and positive attitude.
Royal Purple- Authority and Power.
It is a card that someone is giving you clear sound advice, use your clear thinking.
If in doubt use your logic to figure a way out or a solution to your problem.
Red Shoes- He is lacking in a deep passion. He may have some issues in the past. He lives in a world of order and rules. He has much advice to offer.
Butterfly- Change in the thought of the querent, several changes.
Red Cap – Color of Action.