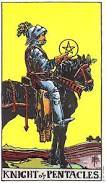 Poem on Knight of Pentacles
A combination of Earth and Fire,
He patiently fulfill his desires.
Responsibility is his middle name,
His target is to get the fame.
He chooses his battle carefully,
He doesn't seek battle intentionally.
He is approachable and friendly,
He admires your qualities sincerely.
He was born with the discipline and art of patience,
His belonging is for his nation.